Bookmark this page to keep up with everything DPF! Please suggest new resources on the LinkedIn article (where you can also see some nice diagrams/illustrations shared to our community).
Newest resources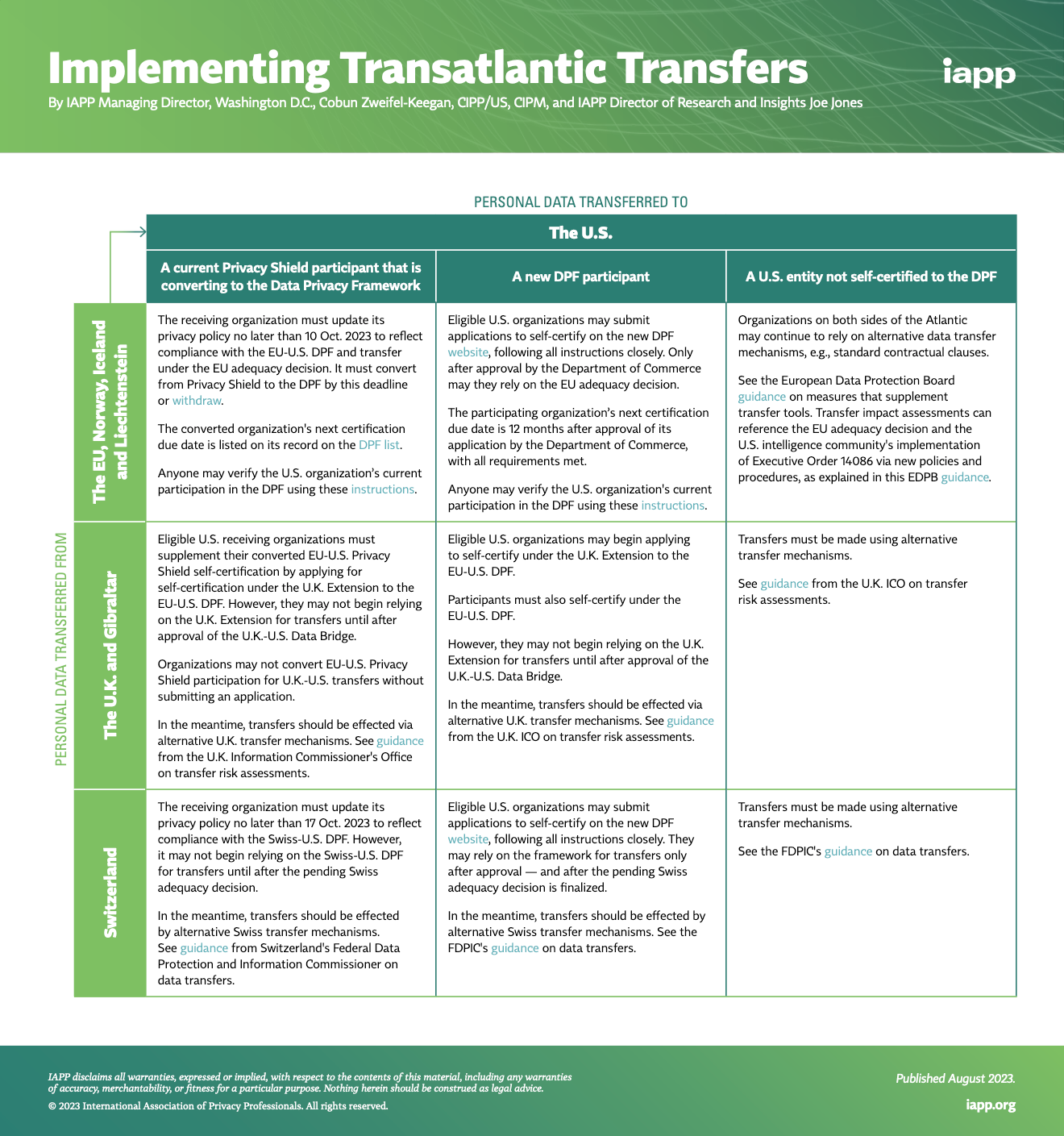 10 July 2023: DPF approved!
The European Commission (EC) has now adopted its adequacy decision for the EU-US Data Privacy Framework, concluding that the United States ensures an adequate level of protection – comparable to that of the European Union – for personal data transferred from the EU to US companies under the new framework. On the basis of the new adequacy decision, personal data can flow safely from the EU to US companies participating in the Framework, without having to put in place additional data protection safeguards.
Note that the adequacy is for certified US companies and not the entire country.
❌ Max Schrems have already stated that they (noyb) will challenge the new framework, so keep in mind that the DPF might not survive that CJEU round either. (And, the US is just one territory - we still have to do TIAs and supplementary measures for other third countries...)
Key resources (as of 15 July, more to come):
🇪🇺 From the EU
🇺🇸 From the US - and for US-based companies
Like before, US companies can certify for the DPF by committing to comply with a detailed set of privacy obligations published on the certification website (live on 17 July). Note that the DPF currently only applies to US companies.
Those already certified under the Privacy Shield will receive information from their certification partners about next steps, but in short you're expected to update your privacy policy (within three months) and otherwise be able to comply with the DPF principles (which are, by large, the same as before).
🎥 Also check out the LinkedIn event with Caitlin Fennessy (IAPP) and Alex Greenstein (Director DPF, U.S. Department of Commerce): The DPF in practice where they also addressed some key questions.
🇺🇸🇬🇧 On 8 June, the UK and US agreed a "UK Extension" to the DPF, allowing certified US companies to also process UK personal data under the framework. This is contingent on adequacy being granted from both the US and UK governments (expected in not too long). Also note that this is only a "data bridge" and not a stand-alone framework as the Swiss one.
🇺🇸🇨🇭 On July 10, the Swiss Federal Data Protection and Information Commissioner (FDPIC) announced "well advanced" discussions with the US and we expect adequacy to be granted once the new Swiss data protection legislation takes effect on 1 September.
🤝
NB! You can apply to certify for the DPF, the UK data bridge and the Swiss framework on 17 July, but you can't rely on the latter two for UK and/or Swiss transfers until adequacies have been granted.
Relevant links:
💜 From noyb & Max Schrems
10 July noyb's reaction to the DPF announcement: New Trans-Atlantic Data Privacy Framework largely a copy of "Privacy Shield". noyb will challenge the decision.
Various, including SA press releases and guidance:
Got other relevant links? Please share with me on LinkedIn!
Archive links 2022-2023